athanasios wrote:
mb: From your tests can you tell us in brief how visible are the clipping issues of enlongation? What about engines?

Engines (locomotives) are always shorter than 12/8, most of them are still 8/8, so there´s only the usual "glitch" (tunnels, bridges, ramps) to be seen. In fact, there are no additional glitches than normal by those "longer vehicles". This is done by a special handling of vehicle graphics, depending on location on track (they´re split up into "short" vehicles on straight track, and only shown in full length were absolutely needed, i.e when changing direction).
Engines (rail cars) could also be as long as an UIC coach (12/8), but don´t have additional glitches as well.
athanasios wrote:
BTW: At first glance you get the impression that you went 32bpp. Very nice dithering! (Only the blue roof of the yellow coach doesn't look so well. Pixels don't suffice there. It would need a 2x zoom sprite. Is it a special livery?)

You mean 11.7? Yes, that´s a very special livery (as all in sections "special" are): the late DB "touristic train"
http://www.railfaneurope.net/pix/de/car ... g/pix.html
And yes, you´re right. This livery would need a better resolution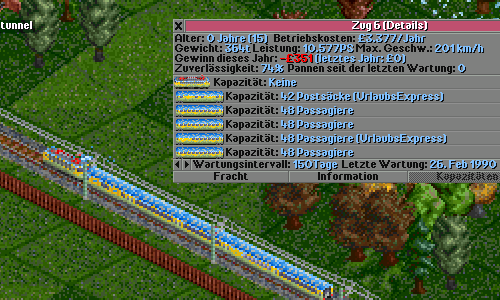 regards
Michael