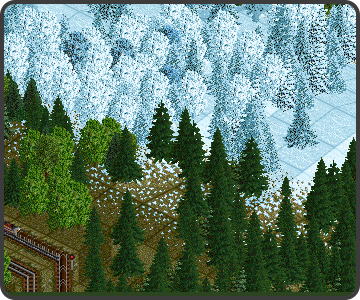 INFRA Test Trees
Eye Candy Objects by SAC
The updated version of the Stolen Trees.grf, including growth stages and snow versions by George, previously available at TT-forums and the BaNaNaS.
This version of INFRA Test Trees has been tested thoroughly. However, should you experience any usage problems, please
report
this in order for an update to be issued!








Version 1.1, Oct. 2007, (sequel to "Stolen Trees" v1.0, re-upl. Apr 2012)
For TTDP, (req. TTDP r2334), and OTTD
GRFID; 4D666F01
Graphics, (SAC), Coding, (George), graphics additions by George
Win version only
Incl. replacement graphics of TTDLX originals
Known issues - if reported Check Here!