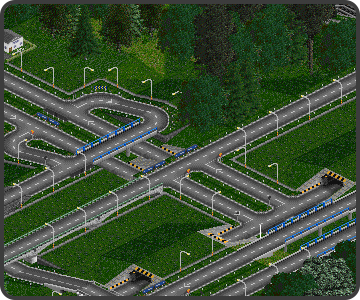 10-101 INFRA Roads
Eye Candy Objects by SAC
INFRA Roads are a collection of custom lights, signs, gantries, and more for use with TTDLX, (TTDP and OTTD). INFRA Roads are designed to be used with any custom terrain and road set you may use in your own personal game setup, and each item included is coded to fit an approriate tile, (i.e flat tile objects, slope tile objects, and so on...).
This version of INFRA Roads has been tested thoroughly. However, should you experience any usage problems, please
report
this in order for an update to be issued!









Version 1.0, January 2013
For TTDP, (req. TTDP 2.6 r2360), and OTTD
GRFID; 53430102
Graphics, (SAC), Coding, (wallyweb)
Win version only
Known issues - if reported Check Here!