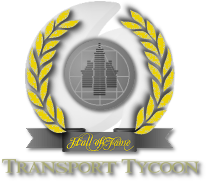 The Transport Tycoon Hall of Fame recognizes and honour those who in various ways through their contributions and efforts have played a significant role in the creation and development of the game Transport Tycoon Deluxe, incl. TTDPatch and OpenTTD, thus being part of forming a community that many others can reap the benefits of today.
Transport Tycoon Hall of Fame - Nomination Procedure
How Does It Work?

When a new Transport Tycoon Hall of Fame event is announced, usually twice a year during spring and autumn, you are free to nominate one person or more that in your honest opinion deserves to be recognized and honoured as an inductee into the chambers of fame. Either because they have contributed to the game itself, or to the ongoing development of TTDPatch or OpenTTD, or in any other way that you may consider has been just as important for the overall gaming experience, or the Transport Tycoon community at large!

Keep in mind that the nominee of your choice does not need to be active on any forums, nor need it be someone that is active on a forum on which you are active yourself. You nominate by sending a pm using the link provided below,(available only during an announced event), before the nomination period ends. Also, feel free to state the reasons for your choice of nomination if desired.

The events for 2013, (nominations and ballots procedures), has been closed. The events for 2014 will be announced in time for the nomination procedure to start!

To view inductees elected to the Transport Tycoon Hall of Fame, please refer to the Index - Chamber list below!
List of content