ChillCore explains that he learned a lot from making patches for OpenTTD, skills he continues to improve whenever Notepad++ is loaded on his computer;
-"I learned C++ to some extent. I learned about version control, having an online repository, dealing with bug reports and feature request, I learned about pixel art, 2.5D game engines and so much more. And more importantly, I also learned where my limitations are. I have a few but there are other people around to fill those gaps, much better then I could ever do myself. And there is still so much to learn and I enjoy every second of that process.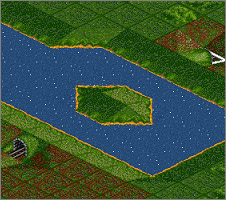 Chunnels in ChillCore's PatchPack...
ChillCore continues;
-"I am also really not that fond of programs that do the coding for you; Dreamweaver, Eclipse, Visual Studio, Unity, just to mention a few, that will allow you to develop faster and fix stuff for you at the click of a button. In the end you have learned nearly nothing about the real programming side of things, not to mention that they bloat your code. As an example I tried loading and saving one of my test sites in Dreamweaver and without anything changed visually nor functionally, the size of my page was four times as big as it was before! This is just not me at all"!
ChillCores first encounter with Chris Sawyers Transport Tycoon was on PlayStation 1, getting all intrigued by the signalling and the possibility to have trains do what he wanted them to do. And it was a reference back to the Roller Coaster Tycoon games he already knew about. Eventually finding out about TT-forums, he was all ecstatic and thrilled realizing there were so many other fans and so many new features and other possibilities offered thanks to Josef Drexler's work on TTDPatch. Although retaining a lurker status at that time as he didn't own a copy of the PC-version, he read some tutorials posted but that was just about it.
-"Back then we could still rent games just like we rent movies today, which I did all the time before deciding if I was going to buy a game or not. However I was working very long hours and had to return the game after a week without having played it much at all. I did have the option to buy it, which I never did. A decision I still regret as I never found a copy again.
Clearing the conscience
Soon enough after finding a game copy online he decided to give the TTDPatch a go, figuring out the complexity of signals, adding loads of custom files to see the results, and above all, getting a better understanding of all the options offered in general. However, as fun as it was, in the end it went down to legal reasons;
-"I started feeling bad because what I was playing underneath the patch was not acquired in the correct way. I did consider getting it somewhere legally but I couldn't find it, nor did I have a credit card to make online payments. Seeing as the open source version is legal to download I moved on to that rather quickly, something which at least cleared my conscience up to 50%. I still needed the graphics as OpenGFX was under development and not really an option with all its black squares visualizing placeholders for graphics to be included".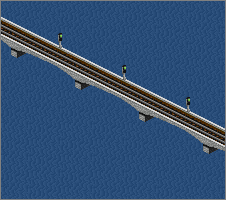 Signals on bridges in ChillCore's PatchPack...
Initially playing around with OpenTTD's stable versions he finally moved on to the nightlies and have been using them exclusively ever since, stable as he find them to be in their release states. And from that point on it didn't take long before the courage was in place for him to register an account at TT-forums, initiated by someones question about saved games not being saved properly because of unwritable files. It was a start getting off on the wrong foot though;

-"I gave the worst advice anyone could give, namely changing to an administrator account to be able to save games, when the correct solution should have been to put the game into a directory that is writable or moving the configuration file to a personal folder.
From his first encounter with Chris Sawyers Transport Tycoon genre on a Playstation 1, then the TTDPatch and at last settling down with OpenTTD, ChillCore soon found himself diving down the ocean of patches. Counting his 5th or 6th in order up till present day, he has a special love for patch testings. But it was the work on the More Height Levels patch that gave him the real breakthrough as a patch pack developer. Having the skills to contribute, he was able to extend the colour use for the small map elevation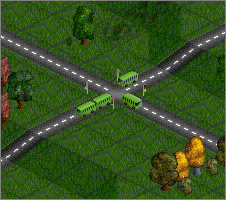 Traffic Lights in ChillCore's PatchPack...
indication, and from there it simply evolved into greater challenges.
Time for bigger projects
-"I love testing patches, and the last one I did before starting my own patch pack included the old NoAI and the OpenGL patch, all of them very buggy as I was making them on my own without any feedback. But with the More Height Levels patch things started to change. Someone else was making a rather extensive patch pack, and I tested it and gave him feedback while encouraging him. But then he added a bit too much at a too fast pace, and got stuck and abandoned it. Seeing how far we had gotten with the More Height Levels patch and because I was still throwing patches together for my own personal use, I decided it was time for a bigger project".
'I gave the worst advice ever'
ChillCore restarted from scratch and made one that included not only the More Height Levels patch, but also the Cargo Distribution patch by fonso as it was actively developed and something he wanted to see in trunk. And despite releasing something that only included a few patches, it became popular right from the start, earning ChillCore heaps of feedback and requests for additional patches to be added. He continued to fix the code, adding new patches here and there, and the rest is pretty much history.
-"In short, the patch pack was created to test the More Height Levels patch and for that reason only. It was the community that pushed it to what it is today. I see myself only as the vessel that molded the community's wishes into reality, so to speak. After all, I was doing what I love most, hacking code, but this time I had feedback, lots of feedback which I still to date appreciate very much".
Judgemental people
ChillCore's experience with the Transport Tycoon community has only been on a positive scale. Although active on TT-forums alone, he usually visits other community sites dedicated to both the TTDPatch and OpenTTD, whether it may be on German, French, Canadian, Dutch, Russian, Chinese, or any other language speaking sites talking about Transport Tycoon. And everywhere it's the same experience altogether, people willing to share or helping others get better at playing,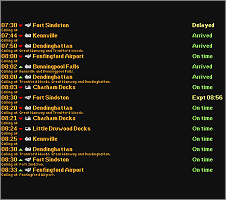 Departure Boards in ChillCore's PatchPack...
coding, drawing, modeling and everything else that involves Transport Tycoon in its various forms. With that said he has little or no understanding of people judging features without understanding the actual purpose of them;
-"No longer being able to change NewGRF's in a running game is one of the best things that ever happened as far as OpenTTD concerns, even though it initially made some people upset.

As a result OpenTTD developers, including myself, don't have to waste valuable time on problems caused by careless players messing up their own savegames. Instead all that wasted time is spent on actually pushing OpenTTD further in the right direction, whatever that may be. Time will tell I guess"!
Can't resist modifying codes
At present age, older than 26 that is, ChillCore has a preference for open- ended games, at the moment enjoying the
Kerbal Space Program
,
Minecraft
, and a very secretive cool beta game he isn't allowed to talk about - yet! Started playing when Atari's Home Pong console was still new, his own personal list of games that has managed to stand the test of time is rather huge with titles such as Myst, Metal Gear Solid, Gran Tourismo, Tourist Trophy, Tony Hawks, Need for Speed, Mortal Combat, Tomb Raider, Doom, Formula 1, Far Cry, Operation Flashpoint, Colin McRae Rally, Grand Theft Auto, just to mention a few. As a big fan of Chris Sawyer's Transport Tycoon he also enjoyed the Roller Coaster Tycoon series, in fact still awaiting a worthy successor. And being a patch pack developer it goes without saying that he plays an OpenTTD game at times, although having a hard time resisting the urge to start or continue modifying the source code at the same time. But while finding some pleasure in playing older games, he is not a big fan of game concepts these days. With the ever so growing amount of DLC's provided by AAA-developers, not to mention the DRM-concept, he believes all of them are forcing restrictions to a users own personal freedom;
-"Who ever came up with the idea of having people pay twice or more just to be able to see the ending of a game? Or to have everything delivered in smaller portions, while they at least should provide basic parts of a game? And I sometimes do feel ashamed on their behalf for releasing buggy crap claiming the game is playable. For instance, I have a game where the intro screen is upside down. I mean really? And don't get me started on licenses preventing you from re-selling a game even if it's total crap, or in other cases just a bad purchase because you wanted to try a new game genre"!
There is however a tiny light at the end of that particular tunnel as ChillCore points to the direction of smaller Indie developers, trying to move away from the trend of controlling and restricting game users;
-"I really don't mind having a launcher required to play for instance Minecraft, but stuff like Steam eating all your bandwidth and where your game exits as soon as you close the client, truly makes the hair in my neck stand up straight! I have actually abandoned a good 25 games I purchased without ever finishing them because of that very reason. And if a new release as much as mentions a non-free DLC or an intrusive DRM, I am skipping it altogether"!
The end of the patch pack
He keeps holding the Transport Tycoon game concept at a high level in comparison, pointing toward its simple construction, yet its possibilities to continuously create complicated games different from any other previous game session. And while he is not planning on a farewell, the story may be a bit different in the future when it comes to his patch pack. Satisfied with all the fun during the development and thankful for all the feedback received, he believes that apart for some bug fixes and a few additional patches, it is the end of it.
-"I started with the mindset that it was a project that had an open end. I could go on tweaking forever and adding stuff, but I'd rather focus on writing smaller patches that are compatible to trunk. I'm convinced it will benefit a lot more users of the game than my patch pack ever will".
Developing the patch pack has given him a broader view of OpenTTD, especially in parts of the code which he otherwise would have overlooked, ultimately providing an understanding of the things players enjoy and what they don't. All of it embraced for even better patches in the future. An experience he's more than willing to share;
-"A little advice to people that want to pick up programming, the best way of learning is to actually do it! Reading books is fine and dandy and also a necessary step to learn the ins and outs of any programming language, but the real progress comes from making mistakes. Listen to your user base if available, and if possible give them what they want, and explain why it sometimes can't be done. Only the sky provides the limit. And most importantly, never ever let people that say that something is impossible stop you from at least trying for yourself"!
Like many others dreaming of a career in the gaming industry, ChillCore isn't an exception. But he holds his hope on a realistic level;
-"I have always desired a career in the gaming industry, but not owning a degree as I left school when I was 15,

it has stopped me from applying for such jobs. Besides, no one has ever offered me one either. Maybe some day the dream will come true, maybe it won't. Either way I am not done coding, not by far".

Game Industry
Clarifications
• AAA is a generally accepted term, not a definition set in stone, mainly referring to a perceived quality rather than an actual quality. Even though the term itself implies an expectation of the highest quality, it may also be used to define games developed and published by a major company, enjoying a large budget, or a large team of developers working on a game for several years before reaching the market. As a marketing term however it doesn't necessarily reflects any later sales figures or if a game developed by a major company earns the title of being a successful production.

• DLC, or DownLoadable Content, refers to additional content available online similar to an expansion pack. Distributed by an official publisher or a third party content producer, a DLC may be of several types, ranging from aesthetic outfit changes to a new extensive storyline, adding for instance new game modes, objects, levels, challenges or other features to an already released game. As a concept DLC has been criticized for being a compelling solution to utilize features that players feel they already have paid for. A publisher may also re-release titles with DLC's bundled which has gained some criticism concerning the exclusivity of such content previously available.

• DRM, short for Digital Restrictions Management, is the practice of imposing technological restrictions controlling what a user can do with digital media purchased. A DRM prevents copying, sharing or playing a game without access to an Internet connection. The design is widely criticized for creating "damaged goods", blocking users from doing what would be possible without the implementation, and at the same time forcing control over production and distribution of media. As such it gives DRM peddlers the power to carry out a large scale surveillance over people's personal habits.


Transport Tycoon Game Cultures

New nightlies in the work!
To some fans great joy, the work on TTDPatch has been resumed. At this point for the sake of bug fixes, but in the future perhaps a new stable...
Latest nightly available;
r2384

OpenTTD stable releases!
Late July the OpenTTD development team released a new stable, complete with fixes from previously released candidates...
Latest stable available;
1.3.2

Wikiscape Catalogues - new resource!
You haven't missed out on the all new file library? Find what you're looking for inside the most comprehensive resource available in the community...
Total files available;
1364